Neck, Back & Shoulder Pain
Acupuncture has a very special role to play in the treatment of Neck, Back & Shoulder Pain. During training, Paul wrote his dissertation on this subject, looking at a specific approach which is dynamic at correcting pelvic misalignment.
In clinical practice he has found on countless occasions that, by correcting a pelvic misalignment as part of the treatment, symptoms ranging from Neck, Back & Shoulder Pain to migraine headaches and sciatica, can resolve very quickly.
A postural alignment scanner in the clinic, enables a patient's posture to be assessed and photographed prior to a treatment. After the treatment a reassessment with the same equipment, clearly demonstrates the beneficial effects of this treatment.
Bones are held in place by muscles. Physical trauma or emotional stresses can cause muscles to go into spasm, pulling bones out of alignment, resulting in pain. When an acupuncture needle is skillfully inserted into selected points in a muscle that is in spasm, the muscle has no option, it has to relax. This enables bones to come back into alignment,with consequential reduction in pain.

Research into the use of acupuncture, in the treatment of neck and shoulder pain in the case of one patient
Patient A-Graph of Pain Against Time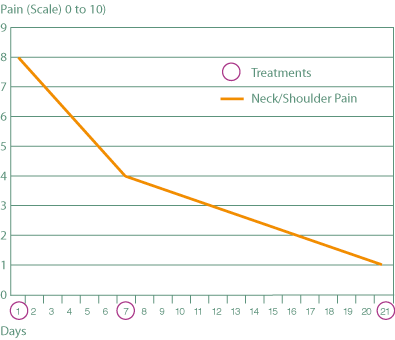 John Plummer, Hailsham
"The above graph shows my reduction in neck and shoulder pain over the course of three acupuncture treatments. I had been in severe, at times incapacitating pain for nine months. I had an MRI scan which confirmed I had a slipped disc in my upper back, causing nerve entrapment. I was very sceptical of trying acupuncture, a neighbour after constant persuasion finally convinced me to give it a go. The results were dramatic, my posture improved, and pain levels reduced. Now six months later I'm still pain free".
John Plummer